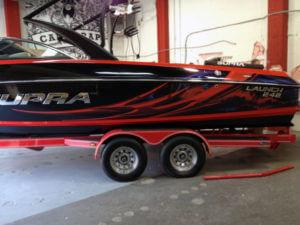 ---
Prepping summer boats includes adding cool wrap designs. Not only is a wrap great for customising a boat, it also preserves the finish. You can choose from one of a large number of wrap media to change the colour of your boat or including graphics.
Prepping Summer Boats and Gives Them a New Life
Prepping summer boats is an exciting process, especially when you have the watercraft wrapped. When working with the wrap designer, the design, digital printing, and installation is done to a high standard. After the work is completed, your boat will display a stunning display of colour or graphics.
Display Your Company's Brand and Services
You can also use a boat wrap to show off your company's brand and services. Whether the wrap is designed to upgrade the looks of your boat or present an advertising message, it is the ideal way to get noticed on the water.
By working with a company like Canawrap, you are assured that your boat's wrap will not only be noteworthy but protected from the elements, including salt spray and UV damage. Wrapping the surface of a boat gives the water transport a new appearance.
That is why this type of change is always a positive transformation. See how a marine wrap can enhance the looks of your own watercraft by contacting us here at Canawrap. The wrap can be removed. So, if you want to change the appearance of your boat during a future season on the water, you can do so. All you have to do is contact the designer and schedule a new design or colour upgrade.
Including a wrap design is always a fun process. See how it can benefit your company or you, personally. Speak to a wrap designer today about prepping your boat for this summer with a beautiful marine design.
---