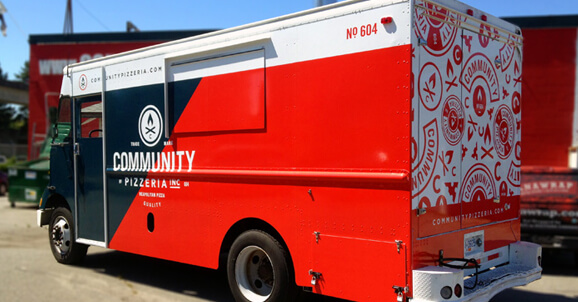 What Attention-grabbing Colours Should You Use for a Vehicle Wrap?
---
If you want to grab people's attention with your vehicle wrap, then warm colours, such as yellow, red, or orange are typically the best hues to pick. Business people use these colours to sell products and to capture the interest of visitors to their websites.
The colours are also employed for other promotional efforts. Indeed, it is shown that the colours you use impact shopping behaviours. Therefore, the hues you choose for your vehicle wrap are important considerations.
Research Data
For instance, research shows that impulse buyers react more favorably to such colors as black, royal blue, red, or orange. On another note, people who are more careful about what they buy respond better to light blue, navy, teal, or pink. Therefore, you have to factor in more than whether or not the color grabs a potential customer's attention. You also have to look at the type of people who use your products or service.
Red – The Most Recognized Color
Among the more noticeable colors, red is the most recognized. Because you cannot miss it, the color is employed for use for emergency signs and alarms as well as call-to-action buttons on websites. You often see red on the sales tags in stores.
However, red has it downsides too. More red cars are stolen than any other car. So, if you have your car wrapped in mostly red, using the color may also be a warning.
Restaurants like using red because it stimulates people's appetites. Therefore, the color is often used for fast food establishments, pubs, and eateries.
Yellow – The Most Visible of Hues
Yellow is the most visible of colors. However, its overuse can make people feel a bit uneasy. Therefore, the color is used for fast food restaurants – usually in combination with red. Because of its brightness, the color is chosen for signs that warn or alert the public. The enlivening hue is also featured in the sales of entertainment products.
Orange
Because orange is a blend of yellow and red, it is known to generate energy and boost people's creativity. The attention-grabbing hue is related with safety, and is seen on the signage used for hunting and construction. Sports teams also frequently use orange for their wearing apparel. The color is often used for toys as it appeals to both kids and teens. Orange stimulates social communication as well as the appetite. Therefore, it is often used for coffee shops, restaurants, travel agencies, and hotels.
Neon Colors
Neon colors also grab attention when used for wrapped vehicles too. Neon colors are represented by lime green, vivid yellow, bright orange, and hot pink. Teens especially like neon colors for cell phone covers and school supplies.
Who Buys Your Products and Services?
Naturally, as indicated, you have to consider the type of people who are interested in your products or services before you make a color selection for a wrap. The emotionality of the color must be reviewed as well.
Other Colors of Note
For example, green, blue, and purple are sometimes used to wrap cars. Green symbolizes freshness and fertility while blue, which denotes the colors of the sky and sea, is frequently associated with such traits as trust, wisdom, and loyalty. Purple, which mixes the energy of red and stability of blue, symbolizes nobility, ambition, and luxury.
A Positive Endorsement
Needless to say, you have to understand the general profile of your customer before you make a color selection. However, if you are like most businesses, you will find that colorizing your vehicle wrap must be done so you get noticed positively.
http://smallbusiness.chron.com/attentiongrabbing-colors-74162.html
Picture Credit:
Canawrap Gallery
Save
Save
Save
Save
Save
Save
Save
Save
Save
Save
Save
Save
Save
Save
---