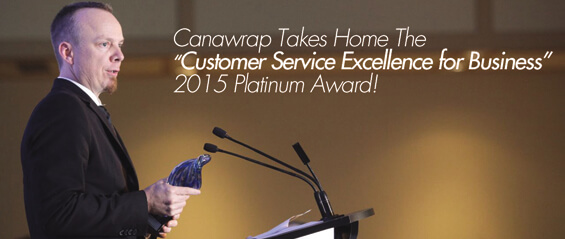 Canawrap wins the 2015 Platinum Award for "Customer Service Excellence for Business"
---
We are so happy, surprised and appreciative of our 2015 Platinum Award that we won this year for "Customer Service Excellence for Business" the entire process has been such a fun one for the team at Canawrap and especially for the owner, Jonathan Glen who attended the dinner/awards show and accepted the award on behalf of the Canawrap Team.
We would like to thank the New Westminster Chamber of Commerce for all the hard work in assembling this event, everyone that voted for Canawrap and all the other amazing businesses of New Westminster…what a great community!
We also want to thank every single customer that we have ever had the opportunity to work for, we appreciate the trust as well as the experience, with every interaction we try our very best to become better service providers. We believe we still have a lot of work to do, so we will keep plugging away and offer the very best we can.
Below is a list of the winners of the evening
Thank You Everyone!
Business of the Year – Small – Music Box Academy
Business of the Year – Medium – Fratelli Authentic Italian Baking (Fratelli Bakery)
Business of the Year – Large – Key West Ford New Westminster
New Business of the Year – Small – 100 Braid St. Studios
New Business of the Year – Medium – Polo Health + Longevity Centre
Business Person of the Year – Susan Cartwright
Customer Service – Business – Canawrap Imaging Inc.
Customer Service – Individual – Omar Castro
Green Business of the Year – Royal Printers
Creative and Marketing Innovator of the Year – Downtown New West (BIA)
Junior Citizen of the Year – Annaliese Meyer
Bernie Legge – Artist Cultural Award – Candice James
Corporate Community Spirit Award – Douglas College Marketing Department and Dynamic Media (in partnership)
Inclusion Excellence in Business Award – FYidoctors New Westminster
Not for profit of the Year Over $1 Million – Fraser Works Co-op and Fraserside Community Services Society
Not for profit of the Year Under $1 Million – Camp Kerry Society
Citizen of the Year – Lynn Radbourne
---