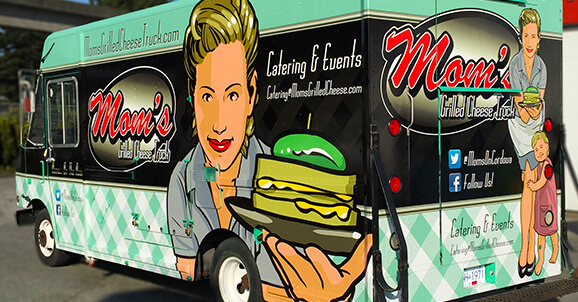 How to Enhance Your Food Truck Brand
---
Food trucks that make profits are colourful and attract attention. Because the industry is becoming increasingly competitive, you need to ensure you stand out. In order to differentiate your look and attract new customers then, you need to install a vinyl truck wrap with a professionally designed logo and appealing colors.
The right truck wrap will ensure that you do not get lost among your competitors.
After all, the first thing that draws a customer to a food truck is its appearance. So, if your truck is standing among other food trucks, you want to create the right impression. That means incorporating a design that is as customer-friendly as it is practical.

Make Sure You Are Properly Branded
For example, if you regularly appear at food truck festivals, you may be getting lots of business. However, if you are not branding yourself correctly, you won't see all those "satisfied" customers return a second time.
Therefore, a vinyl truck wrap is the best way to enhance your brand recognition among your base of customers. You may offer a delicious menu. However, if your customers cannot remember your truck, you won't be guaranteed a continual revenue stream.
A Cost-effective Method of Communications
That is because a truck wrap serves as your brand's value proposition and voice. Therefore, wraps are the most cost-effective method for communicating your message locally. Plus, you have a number of options for wrapping your truck. You can even add a white board wrap to display your menu on the outside of your truck.
In order to enhance your food truck brand then, make sure the design you choose for a truck wrap reflects your business's intended image. A wrap generates thousands of impressions each day. So, you want the impression that is created to be both valuable and distinct.
A Quick Way to Send Your Message
In fact, a properly developed wrap generates between 30,000 and 70,000 impressions per day in urban locales. So, you cannot take the design lightly. According to statistics, you can build name recognition for your food truck 15 times faster than similar forms of billboard-type advertising.
Your truck wrap will protect your vehicle from the rays of the sun and therefore, keep the paint well-preserved and from fading on your truck. The message your wrap conveys can also keep your business from fading from the memories of people who see your truck, whether it is parked or in-transit in your community.
How to Get Your Truck and Brand Noticed
In order to underscore your food truck image then, you have to think big, if not progressive. If possible, choose a full body or partial wrap that displays bold colors that tie into your branding. This type of approach gets both your truck and brand noticed. You might also think about adding your logo and contact details to other vehicles that are personally owned. This way, you will instantly form a fleet for your business.
When wrapping the truck, don't forget to wrap the roof. This addition is especially important in cities with tall buildings or skyscrapers. Place your social media name and website address on the roof so office workers will see and remember the information.
Also, place your social media account next to the logo on your platform. Include your website address and Twitter, Facebook, and Instagram account names – all which make it easy for customers to establish a rapport.
Placement of Your Company Information is Important
In addition, make sure that your company's name and logo, plus key information, can be easily seen when your service window is both opened and closed. After all, it rather defeats the purpose of the wrap if people only see the message when the service window is closed.
A truck wrap can assist you in reaching virtually any demographic. So, use the information above to make full use of this popular form of advertising.
References:
http://mobile-cuisine.com/marketing/food-truck-wrap-tips/
Picture Credit:
Canawrap Gallery
Save
Save
Save
Save
Save
Save
Save
Save
Save
Save
Save
Save
Save
Save
Save
Save
Save
Save
Save
---