White Rock Vehicle Wrap Graphics
---
Located in White Rock, BC, and in search of distinctive graphic designs for your business vehicle? Look no further than Canawrap. Renowned for their creative flair, our graphic designers at Canawrap specialize in developing standout designs for a range of vehicles, be it cars, vans, trucks, or trailers, perfectly tailored to your business's branding and advertising goals. Discover our gallery of dynamic and eye-catching truck wrap designs that brilliantly showcase your brand's personality. Reach out to Canawrap's experts today to begin crafting your unique vehicle graphics and delve into our wide array of graphic design options.
Growing businesses in white rock
White Rock, B.C., is a picturesque seaside city famed for its stunning 1,500-foot-long pier and the large white rock on its beachfront, from which it gets its name. The city's waterfront is adorned with a beautiful beach and a vibrant promenade, attracting visitors year-round. White Rock is also known for its thriving business community, comprising a blend of quaint boutiques, cozy cafes, and seafood restaurants, all benefiting from the city's tourist appeal. The combination of its natural beauty, landmark attractions, and bustling commercial activity makes White Rock a unique and lively community in the Greater Vancouver area.
White Rock Beach
East Beach
West Beach
Uptown White Rock
Crescent Beach (located in adjacent South Surrey)
Ocean Park (also in adjacent South Surrey)
A Wrap Graphic Solution for white rock b.c.
White Rock business owners looking for a cost-effective way to enhance their presence in the Greater Vancouver area may discover Canawrap's vehicle wrap advertising as the ideal solution. Crafted with superior 3M vinyl, these wraps are custom-designed to align with the unique needs of each business, incorporating distinct branding, messages, and colour schemes.
Canawrap provides the chance to transform your White Rock business vehicle into a dynamic mobile billboard, directly engaging your target audience. Uncover the possibilities of our tailored services on our services page, and see how we can help elevate your business's reach and impact.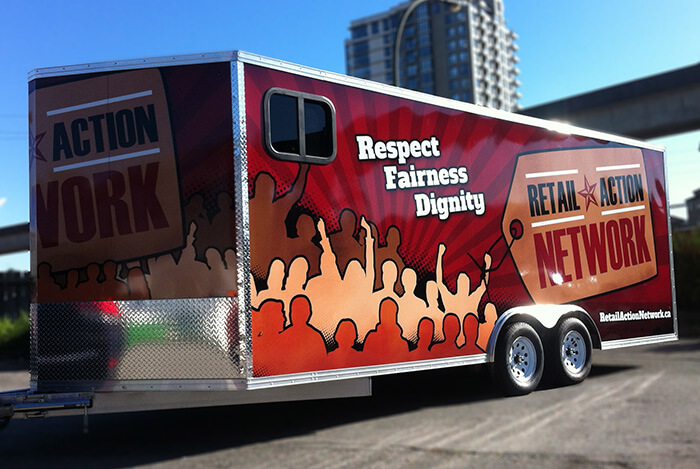 graphic wrap marketing in white rock
Businesses in White Rock can vastly enhance their marketing reach throughout the Greater Vancouver area by leveraging Canawrap's innovative vehicle wraps. These high-quality vinyl wraps are meticulously designed to reflect your business's unique brand and message, ensuring a striking visual impact. This method does more than just make your brand stand out; it actively captures the attention of potential customers wherever your vehicle goes. Reach out to Canawrap today so you can grow your business in White Rock.
white rock frequently asked questions
How much is a car, truck, van or trailer wrap in White Rock?
The price for covering a branded vehicle wrap adjusts depending on how big the vehicle is and what its coverage is. It costs less to wrap a small car than a big pickup truck in White Rock. The prices for wrapping are mostly between $500 and $3400. If you want to know how much it would cost to wrap your car in White Rock, you can receive a free price quote!
Do you offer design services for my vehicle wrap graphic wrap?
Absolutely! Canawrap is an award winning vehicle wrap design company that has worked on hundreds of different businesses in White Rock.
What kind of materials do you use for your graphic wraps?
Canawrap is a 3M Select Company as listed by 3M Canada. We worked hard for this certification so our customers know that we only print/laminate and install premium 3M materials for our supplied vehicle, car, truck, van and trailer wrap graphics and signage.